Our Mission and vision
"Work is our mission - Join Us"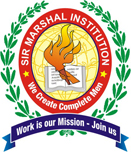 MISSION:
 To provide strong foundation for the child in education to become a leader in the shifting and changing global scenario.
To provide State-of-the-Art facilities to the students to develop themselves "Learning By Doing is the motto, where learning is pleasure."
To move the child to be society committed and globally competent.
VISION:
Education is the birth right of every child. A child is born with immense potentialities. There should be a special system of education. Where no child is ever rejected, where the child is the main centre of every activity, where personal attention is given to every child focusing on physical intellectual emotional and spiritual strength which are the four pillars of education.
AIMS:
Importing excellent co-educational suited to live in the global village.
Bringing about an all round development of the child, giving due weight-age to all the inborn potentialities in him/her.
Promoting character formation and humanitarian outlook.
Utilizing the resources of experts in the field of education for the benefits of the coming generation.
Equipping the child to be at par with his commitment to the society.
Contributing to educational resources, innovations and reforms in the various fields of the education- Oriented matters.
Developing awareness of love, co-operation, independence, self reliance and commitments to the poor and the needy.
Inculcating idea, values and virtues in the children and enabling them to have noble soul thinking and ways of life.
Providing good quality of education designed for the all round development of the child to equip him/her for the world of tomorrow by careful augmentation of his/her mind, heart and body. Intellectual, moral, social and professional enlightenment is aimed at by giving special emphasis to virtues of truthfulness, honesty, politeness, industry, simplicity and self discipline. 
Our Ethos, Aims and Values: Ethos: The ethos of the school will evidence:
Effective Leadership
Committed Teachers
A loving, caring and learning environment
High quality of teaching and learning.
Opportunities for professional development.
Goals In order to build and sustain the promise ethos, the school will strive to attain:
Improved quality of teaching.
Improved organizational structure.
Participate in community Service.
View Photo Gallery

Our Facility

Admission Process
News/Events
Contact Us
Sir Marshal Convent School,
Vill. Bhaliala, P.O- Bassi Wazid,
Distt.- Hoshiarpur (Punjab)
PIN CODE- 144208

Call Us:
01886- 292137
Email:
sirmarshalschool@gmail.com