Facility
"Work is our mission - Join Us"
The children are given ample opportunities to perform at Sir Marshal Convent School which help to build their confidence; it also helps in language development.
English Speaking Environment: Language skills including English conversation are enhanced. The various programmes are introduced in SMCS for Find the overall development of the students.
Class rooms
The vibrant and spacious classrooms are temperature controlled and are well equipped with Educomp Smart Class, with Projector. The use of interactive Boards adds a new dimension and provides rich e-learning experience. Extensive display boards in every classroom provide space for the acknowledgement of students own work and achievements. The bright decor of the classrooms adds to the cheerful and welcoming ambiance. Modular furniture for every classrooms.
Laboratories:
Lab spaces can be accessed through well connected walkways. Labs are spacious and configured to accommodate more than 25 students and are well equipped fire extinguishers, etc. as per safety standards. Each of the labs is stocked with apparatus, glassware and chemicals not only to meet curriculum requirements but be able to support individual project work of each student.
Social Science Laboratory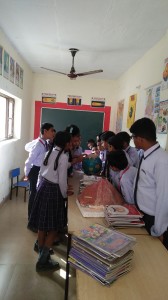 Math Laboratory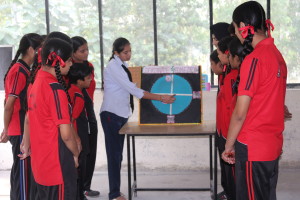 Physic Lab
Bio Lab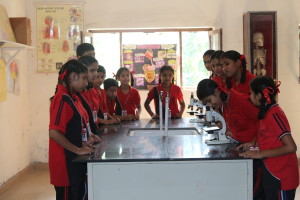 Chemistry Lab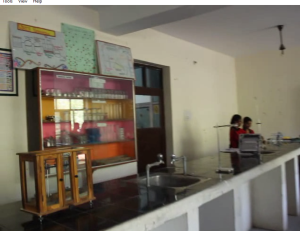 Science Fair

Computer Lab:
The school have computer lab to meet the curriculum needs and for equipping every student with computer skills. Each of the lab is staffed by a certified teacher to monitor student activities.
Library:
The big spacious library occupies a central place at Sir Marshal Convent School and has a extensive reference and books collection in different languages which is supplemented by national News Papers, magazines and periodicals. This learning centre ignites the passion to read.
Transport:
Sir Marshal Convent School has its own fleet of seven buses with trained attendants and experienced drivers. The school provides transport facility for the students from the suburban areas of the town to the school. Our SMSIANS are appointed as Bus Marshals to maintain the discipline in the transport. A fleet of school buses operate throughout Hariana City and Hoshiarpur district. Transport facility to every student.
Play grounds and Sports Activities:
Play grounds for Basket Ball, Volley Ball, Badminton, Kho- Kho , Kabbadi , Athletics Children Park.
Activity Room:
Martial Art: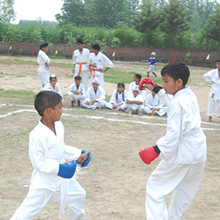 School has provided coach for Karate training to boys and girls. It has been made compulsory for Nursery to 8th standard students. Our students show good result not only in inter school competitions but in State , National and International Events every year.
Co-curricular Activities:
At SMCS classroom teaching is reinforced with hands – on – experience through visits, field trips and excursions organized for the students in the course of their academic year. Off-site excursion/ visits and field trips provide a unique opportunity to enrich the lives of those taking part, whether it is a visit to another establishment, a trip to the local zoo, an adventurous activity or an outstation trip. This school takes pride in planning and executing trips with utmost safety, security and comfort of the child in mind
School Band and Student Congress:
The SMS School Student Congress members are elected democratically by the students of each class through the process of election. The Student Congress has two members elected through voting. The office bearer of the Student Congress are as Head Boy and Head Girl
Gardens
 Infrastructure

View Photo Gallery

Our Facility

Admission Process
News/Events
Contact Us
Sir Marshal Convent School,
Vill. Bhaliala, P.O- Bassi Wazid,
Distt.- Hoshiarpur (Punjab)
PIN CODE- 144208

Call Us:
01886- 292137
Email:
sirmarshalschool@gmail.com