About School
"Work is our mission - Join Us"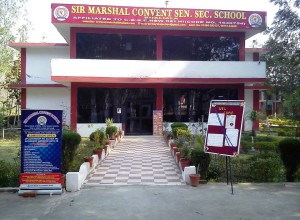 Sir Marshal Convent School, Village  Bhaliala, P.O.  Bassi Wazid, Tehsil Bhunga and District Hoshiarpur, Punjab is a CBSE affiliated school. Its affiliation ID code is 1630754. This school is a Pre-Nursery to secondary level school. The School has three wings- Pre-Primary, Primary and Secondary. The school campus is attractive and inviting with landscape, established trees, seating areas, lush green fields. The area is well used by students and the community and our buildings are well maintained and presented. The curriculum for the school is based on the syllabus lay by (C.B.S.E), New Delhi. The school provides fine infrastructure and facility to its students for the pursuit of educational and creative activities that are vital for all-around development of their personality. The school has pledged to impart a part value- based education in a techno-savvy environment. It is a place for warmth and friendship and working together. This school is run by Sir Marshal Educational Society (Regd.) HSP, Punjab.
Bhaliala is a village in Bhunga Tehsil in Hoshiarpur District of Punjab State India. Bhaliala's nearest city is Hariana located at the distance of 4.0 km. It is located 17 KM towards north from District head quarters Hoshiarpur. Bhaliala pin code is 144208 and postal head office is Hariana. The nearest railway station to Bhaliala is Hoshiarpur which is located in and around 16.6 kilometer distance. The Sir Marshal Convent School lies on Hariana- Janauri road. The landmark to the school is Radha Swami Satsang Ghar, Bhaliala.
Name Of The Founder Of The School:  Mr. Rajinder Singh Marshal
 Idea Behind The Establishment Of The School:   To provide good quality of education to the children of Kandi Area.
Courses Offered To The Students:   From Nursery to 10th Std.
View Photo Gallery

Our Facility

Admission Process
News/Events
Contact Us
Sir Marshal Convent School,
Vill. Bhaliala, P.O- Bassi Wazid,
Distt.- Hoshiarpur (Punjab)
PIN CODE- 144208

Call Us:
01886- 292137
Email:
sirmarshalschool@gmail.com